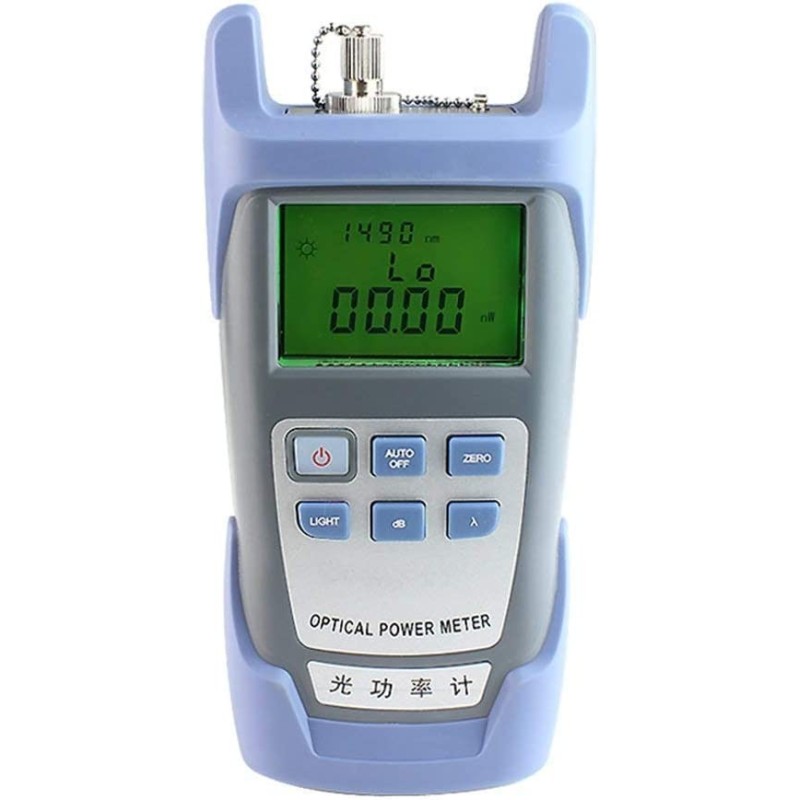  
Fiber optic photometer
This pocket-sized tool is equipped with a fiber optic tester screen, making it easy to use. It can measure optical power at 7 different wavelengths: 850/980/1300/1310/1490/1550 / 1625 nm. It features a linear and non-linear display, as well as a fixed or strobe red light source that can be alternately selected. Operating time is 40 hours, with automatic shutdown. It is equipped with a universal 2.5 mm connector, compatible with FC / SC / ST interfaces, and features a quick switch. It also comes with FC and SC adapters.
The Fiber optic photometer is a cutting-edge device that revolutionizes the way we measure light intensity. Whether you're a professional photographer, a scientist conducting experiments, or simply an enthusiast exploring the wonders of light, this photometer is designed to meet all your needs.

Features:
Accurate Measurements: The Fiber optic photometer utilizes advanced technology to provide highly accurate measurements of light intensity. You can rely on its precision to ensure consistent and dependable results every time.
Versatile: With its fiber optic probe, this photometer can be used in a wide range of applications. From measuring the brightness of studio lights to analyzing the intensity of sunlight, it adapts effortlessly to different environments.
Compact and Portable: Designed for convenience, the photometer is compact and lightweight, making it easy to carry around. Its portable nature allows you to conduct measurements wherever you go, ensuring flexibility and mobility.
Easy to Use: This photometer is user-friendly, even for beginners. With its intuitive interface and simple controls, you can quickly navigate through the menu options and adjust settings according to your requirements. The clear display provides instant feedback, allowing you to make informed decisions.
Durable Build: Crafted with high-quality materials, this photometer is built to last. It can withstand rough handling and endure challenging conditions, making it a reliable companion for long-term use.

Specificity:
The Fiber optic photometer stands out from other similar devices due to its ability to provide accurate measurements in various light conditions. Whether you're working in a dimly lit room or under direct sunlight, this photometer can handle it all. Its fiber optic probe ensures precise readings by effectively capturing light from different angles.

In conclusion, the Fiber optic photometer is a must-have tool for anyone seeking accurate and reliable light intensity measurements. Its versatility, ease of use, and durable build make it an exceptional choice for professionals and amateurs alike. So why settle for less when you can have the best? Invest in the Fiber optic photometer and unlock a whole new world of precise light measurements.
Specific References
EAN13

3770019561669