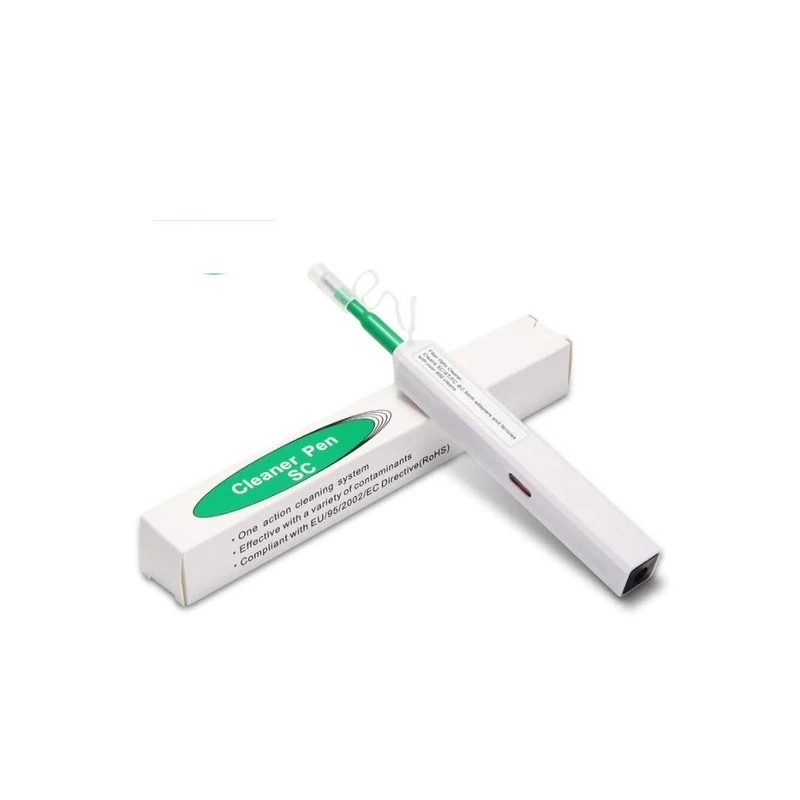  
Cleaning pen for 2.25mm ferrule (Green)
Introducing our Cleaning Pen for 2.25mm ferrule, the perfect tool to keep your optical connectors clean and in top-notch condition! This green-colored pen is specifically designed to effectively remove dust, dirt, and grime from the ferrule of your optical fibers. With its innovative design, it ensures a thorough and gentle cleaning without causing any damage. Compact and easy to use, this cleaning pen is a must-have for anyone working with optical connectors. Maintain optimal performance and clarity with our Cleaning Pen for 2.25mm ferrule. Order yours today and enjoy crystal clear connections every time!
The Cleaning pen for 2.25mm ferrule (Green) is an essential tool for anyone who regularly works with fiber optic cables. This pen is specifically designed to clean the 2.25mm ferrule, which is commonly used in fiber optic connectors. With its sleek green design, this pen stands out and is easy to spot in any toolbox or workspace.

One of the key features of this cleaning pen is its convenience. It is compact and lightweight, making it easy to carry around and use on the go. Whether you are working in the field or in a confined space, this pen will not take up much room and can be easily stored in a pocket or tool bag.

Using this cleaning pen is incredibly simple. The tip of the pen is equipped with a specially formulated cleaning compound that is gentle yet effective in removing dirt, dust, and oil from the 2.25mm ferrule. To clean the ferrule, all you need to do is gently insert the pen tip into the connector and rotate it a few times. The cleaning compound will do its magic, leaving the ferrule clean and ready for optimal performance.

This cleaning pen is also designed to be reusable and long-lasting. It comes with a replaceable cleaning cartridge, ensuring that you can continue to clean your ferrules without having to purchase a new pen each time. Simply replace the cartridge when it becomes worn out, and you're good to go.

Investing in this Cleaning pen for 2.25mm ferrule (Green) is a smart choice for professionals in the fiber optic industry. Not only does it provide a quick and convenient solution for cleaning 2.25mm ferrules, but it also helps ensure maximum performance and longevity of your fiber optic connections. So, grab your pen and keep those ferrules clean for seamless data transmission!
Specific References
EAN13

3770019561645