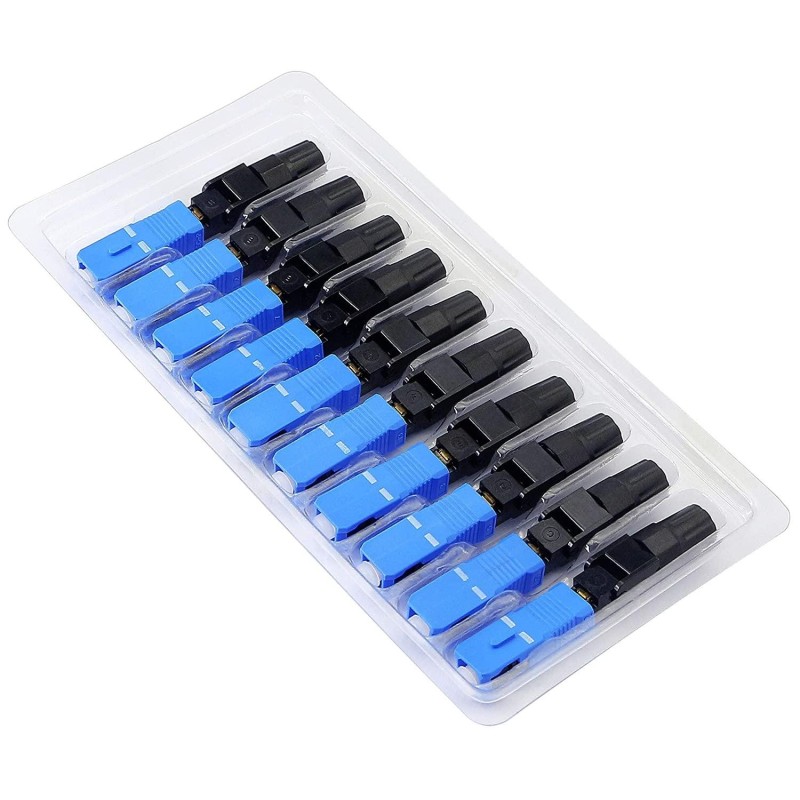  
SP/UPC fiber optic quick connector (blue) - set of 10
Introducing the SP/UPC fiber optic quick connector (blue) - a must-have for any home networking setup! This set of 10 connectors is designed to make your fiber optic connections super easy and hassle-free. With its innovative design, you can quickly and securely connect fiber optic cables without the need for any special tools or expertise. The blue color adds a touch of style to your setup while ensuring easy identification. Whether you're a DIY enthusiast or a professional, these connectors are perfect for all your home networking needs. Upgrade your network with the SP/UPC fiber optic quick connector today!
The SP/UPC fiber optic quick connector (blue) is a set of 10 connectors that are designed to provide a reliable and efficient connection for your fiber optic network. With their high-quality construction and advanced technology, these connectors ensure optimal performance and durability.

One of the key features of these connectors is their SP/UPC (Super Physical Contact/ Ultra Physical Contact) design. This design ensures precise and low-loss connection between the fiber optic cables, resulting in enhanced signal transmission and minimal signal loss. With the SP/UPC design, you can be confident that your network will deliver consistent and high-quality performance.

The connectors are color-coded blue, making it easy to identify and differentiate them from other connectors in your network. This helps in organizing and managing your network effectively. The blue color also adds a touch of aesthetics to your fiber optic setup.

Quick and easy installation is another advantage of these connectors. They feature a simple push-pull mechanism that allows for a fast and hassle-free connection process. You don't need any special tools or expertise to install these connectors. Simply align the fibers, push them together until you hear a click, and you're good to go.

These connectors are compatible with most standard single-mode fiber optic cables. Whether you are setting up a new network or upgrading an existing one, these connectors will seamlessly integrate with your infrastructure. They provide a secure and stable connection that can withstand various environmental conditions.

With this set of 10 connectors, you have enough to complete multiple connections or have spares for future needs. They come in a compact and lightweight design, making them easy to store and transport.

Overall, the SP/UPC fiber optic quick connector (blue) is a reliable and user-friendly solution for your fiber optic network connection needs. Its superior performance, easy installation, and compatibility make it a valuable asset to any home or professional network setup.
Specific References
EAN13

3770019561652